14 KILLED IN LA COUNTY OVER PAST WEEKEND
link
10 DEAD IN TIJUANA OVER THE PAST WEEKEND
link
Interestingly the "Great In-between" of Orange County and San Diego not similarly afflicted. Any ideas why? Other than OC and SD being "Red State" counties? Maybe something associated with the cultures and laws of those counties? Something like a higher incidence of firearm ownership and (in the case of OC)higher rate of Concealed Carry Weapon permit issuance?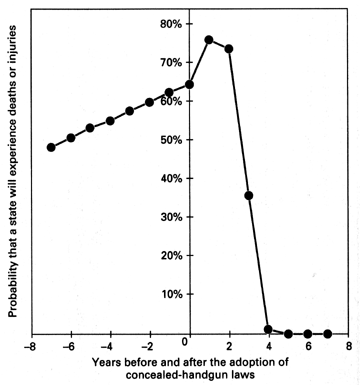 Maybe
Professor Lot
t can help you out with his scholarly, yet readable book,
"More Guns less Crime".
The connection between this weekend's news and those links might be intuitively obvious to you. Especially if you believed the line that "we the people have been sold" for a generation since 1967. This could help bring some clarity to it for you. Nothing like the hard cold facts...
"Why Almost Everything You've Heard About Gun Control is Wrong."